Description
Bambrella Levante 3m Round Parasol with Spuncryclic fabric canvas. The Bambrella Levante frame (48mmpole, 8 x ribs, hub, runner and finial) is made using laminated bamboo. All metal fittings are 304 stainless steel.
The Levante is our premium and most popular parasol, designed for the commercial and high-end domestic market. It is made using a single piece pole for extra strength and durability, with the contemporary feel of stainless steel and natural bamboo. Our double pulley and rope system ensures easy raising and lowering of the parasols, even on the largest of models.
The Levante range incorporates a turned bamboo hub and runner with stainless stew brackets, a bamboo finial and an elegant, practical cleat locking system. The covers are attached using or own bolt-down stainless steel rib end protector system or alternatively sewn pockets. The ribs and supporting arms are fitted with stainless steel through bolts, making all the parts easily interchangeable.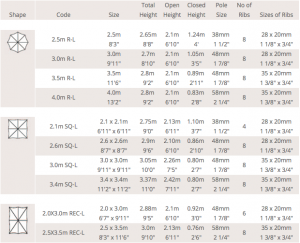 Bambrella Levante 3m Round Parasol with Spuncryclic fabric canvas. Spuncrylic is polyester which has gone through a process called solution dying, which gives it a very high resistance to fading from sunlight.
Ultraviolet Protection factor 50 (UV50)
Water repellent
Stain resistance
Similar performance to acrylic (but more affordable!)
3 years fabric warranty
10 stunning colours to choose from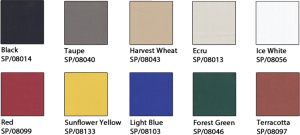 Why Bambrella?
5 years warranty on frames and hardware
Ecologically sound
Extremely robust and weather resistant
Sizes from 2 to 4 metres
Beautiful natural wood look and feel with sleek, modern design
Quality 304 stainless steel fittings
Specialised bamboo laminating
Protective oil finish – enhancing the beautiful deep golden colour, whilst keeping the natural feel.
Why Bamboo?
Non-toxic and non-hazardous to the environment
Sustainable and renewable
Superior density & strength in comparison to most hardwoods
Bamboo is the fastest growing plant in the world, able to grow on 80% of the worlds surfaces
Bamboo absorbs more CO2 than any other plant or tree
No illegal logging or deforestation
Resistant to warping, splitting, rot, mould and mildew
No splinters or leaching
100% solid laminated Moso bamboo strips
Exemplary quality with a passion for detail
Natural beauty.