Description
The Vortex 4.2m Square Parasol is a British designed and manufactured product, able to withstand weather up to Storm Force This durable and attractive jumbo parasol combines a precision engineered 316 marine grade stainless steel frame with a high tensile PVC fabric canopy complete with catenary cable. Designed for year round shade and shelter the Vortex 4.2m Square Parasol has been tested and certified to BS EN13782:2005 – Windspeed >100kmh. This is the ideal jumbo parasol for exposed and windy locations.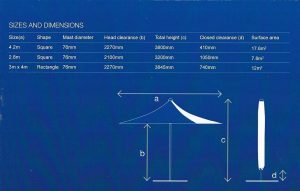 The Vortex 4.2m Square Parasol has been built to meet commercial requirements – as a  'put up and forget' solution. Providing shelter in the winter months & shade with UV protection in the summer. Select 'accessories' to add-on lighting & electric infrared heating to ensure this parasol enables 365 all year alfresco dining. The Vortex Parasol requires minimal maintenance.
Parasol Fabric & Colour Choices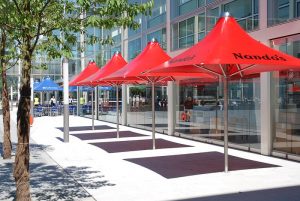 The fabric canopy is constructed using Serge Ferrari pvc fabric. Chose either 502 Satin or Stam 6002. The Ferrari 502 Satin (click for pdf swatch brochure) has a smooth satin finish. The Ferrari Stam 6002 has a slightly embossed matt surface which blends the fabric into the environment. White 502 satin is our stock canopy. The 40 colours in 502 Satin & 12 colours Stam 6002 are made to order with a 4 week lead-time.
Fabric & colour selection is confrmed with our customers after completing the purchase  See details below: 'Chose Custom Colours'.
Parasols with printing can be ordered with no minimum order quantity.
Vortex Base choices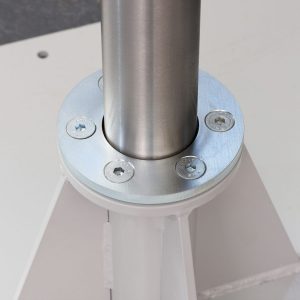 The Vortex 4.2m Square Parasol has a versatile range of bases allowing installation almost anywhere. In-ground bases must be incased in concrete, poured on site, these provide a permanent fixing. Alternatively; bolt the Parasol down using the deck plate to an existing solid concrete base or into the joists of a  heavy duty timber deck.  A Freestanding base is available complete with pre-cut concrete slabs for weighting, this gives users the option to create a timber cover as a table or seating area.  A further option provides a 316 marine grade stainless steel cover box for the freestanding base.
Inground bases: Standard Base / Extended base 1200mm / Extended base 1500mm / Reinforced base 700mm
An optional Stainles steel Cover Plate may be fitted to the top of the inground base  when  the  parasol is removed.
Deck Plate: Bolt the powder coated mild steel deck plate to a reinforced timber deck or existing concrete base.
Freestanding Base: Comprises the deck plate and 36 specially selected pre-cut concrete slabs (400 x 400 x 65mm)  to form a surface mounted  parasol anchor weighing 957kg. The freestanding base  size is: 810 x 810 x 595mm high.
Freestanding Base Cover:  Select the 316 Marine Grade Brushed Stainless Steel Base Cover to improve the aesthetics of  the Freestanding Base. Add the optional Marine Grade Cushion (20 colours available) for comfort.
Vortex Lights & Heating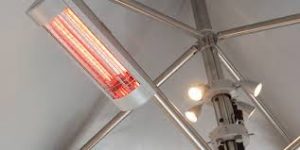 Lights only: The lights only package offers a mast mount c/w 2m cable which is fitted into the parasol at the factory. An IP-rated junction box located in the apex of the parasol houses a junction box which connect the light package to the main electric supply. Options for lights: 4 x 50W Solamagic spots or upgrade to 4 x 4W LED warm white lamps
Lights & Heating: Select the Solamagic 2 Heaters & Lights or Solamagic 4 Heaters & Lights bundle to turn your parasol into a 365 day rain & shade solution! The Solamagic heaters emit shortwave infrared which provides a consistent delightful heat unaffected by wind.  The bundles include the equipment to mount the heaters & lights to the parasol.
Vortex Gutter & Side Panel Choices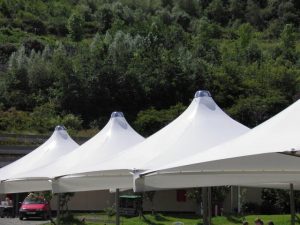 Gutter Sections: Interconnect adjacent Vortex Parasol with gutter sections to increase your seamless covered area. Velcro fixing – gutter sections must be ordered with your Vortex parasol a factory fitting of the velcro fastening is essential. Bespoke gutter sections may be fabricated to connect your parasol to a building – seamless rain and shade protection form inside to outside.
Side Sheets: enclose your Vortex parasol or group of parasols with side sheets. Side sheets are colour matched to your parasol, each made with a  clear pvc window section. Available in standard or long lengths  i.e for freestanding bases/extended poles.
Infill Panels are available to fully enclose parasols connected by a gutter.
Surchage Note. Gutters, side sheets, and infill panels should be ordered with your parasol order as a 25% surcharge will be applied in addition to  prices noted on this website for one-off orders.
Vortex 4.2m Square Storm Parasol
Parasol Pole Extension – extend the parasol pole by upto 500mm, eg. useful where inground fittings are located under decking.
Powder Coat Parasol Frame – RAL colour match the stainless steel frame to suit your theme
Mast Clamp – required for parasols kept closed for long periods.
Green PVC Cover Bag – with zip for fabric protection when parasol is closed.
Cleaning Kit  – to keep the Vortex parasol looking at it's best.
Chose Custom Colours for your Vortex Parasol from the PDFs Below
– Made to order 4 week lead time
– Select your preferred colour & Insert the Colour Code into the Canopy Colour Box!
40 colours
570 g/m2
PVC
Satin finish
High end look
10 years warranty
2 colours
630 g/m2
PVC
Matt & Embossed contemporary natural look
5 years warranty
 502 Satin and Stam 6002 fabrics are recyclable, waterproof, flame retardant, UV resistant and dirt resistant.
Lead time: White 502 Satin fabric is normally in stock. Generally a 4 week leadtime should be expected when ordering a coloured canopy. Bespoke canopies are made to order from the date of confirmed paid order.
Delivery: Delivery is free to commercial premises on mainland UK. Please note the Vortex parasol is large and heavy. The courier must have assistance from at least 2 able bodied strong adults at the point of delivery. A surcharge will be chargeable if assistance is not available or access is restricted and a second delivery attempt is required . See our delivery terms.
Qualities
Tensile Fabric Large Commercial Parasol
Designed in the UK
Craftsman built in the UK
Achieved BS EN 13782:2005 Windspeed >100kmh
Marine Grade Stainless Steel Frame
World Class Serge Ferrari PVC Fabric Canopy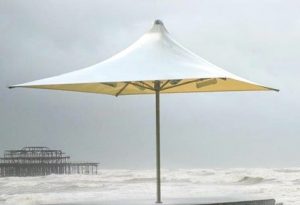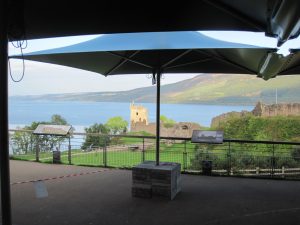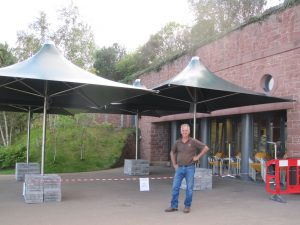 For infrared heating products in your garden go to our sister site: www.heatmyspace.co.uk